You've seen our front door here. You've seen our bathtub. You've seen my bathroom sink. And you saw the piano on Monday. Today, I want to share with you a few more of the well-loved spaces we live in.

This play area is beside our bed in the master bedroom. I nurse Stella while lying down, so it's nice to have something close by for Margot to work on.


Here's Stella enjoying the pillow top. We found these big pillows at TJMaxx and have just loved them. We enjoy Tomie DePaolo, although the legends are a bit much for the younger sect to grasp. His toddler bible is impossible to beat. Margot memorized it and asked for it constantly even at 12 months.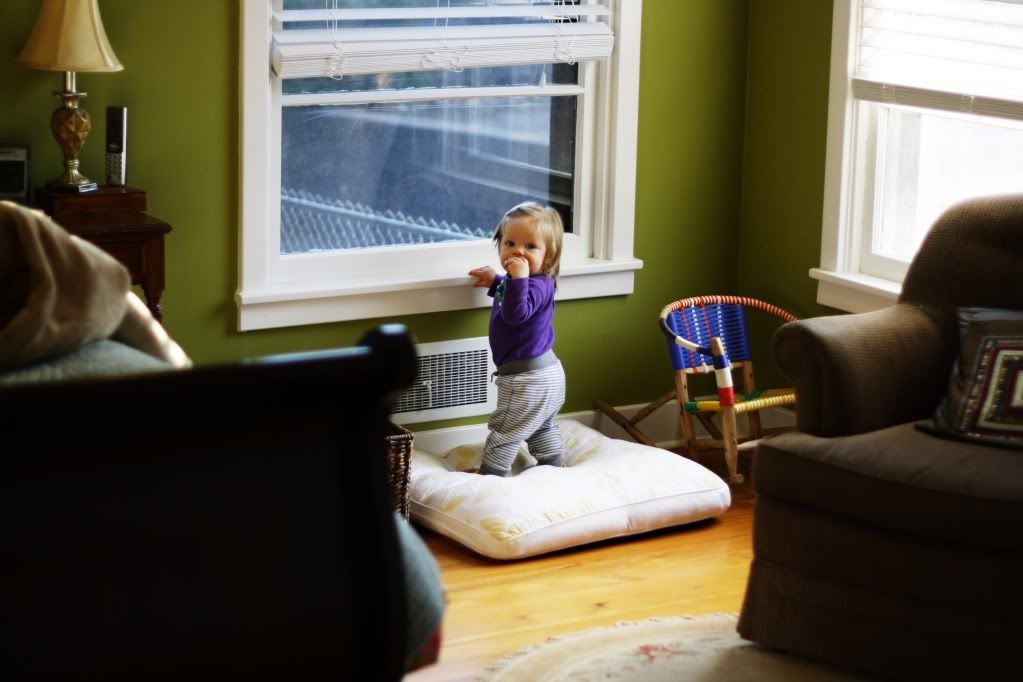 The baby rocking chair was thrifted at Laverty's in Waco for less then $10.


Margot, feeding Brown Bear in his highchair


This is the Room of Many Cribs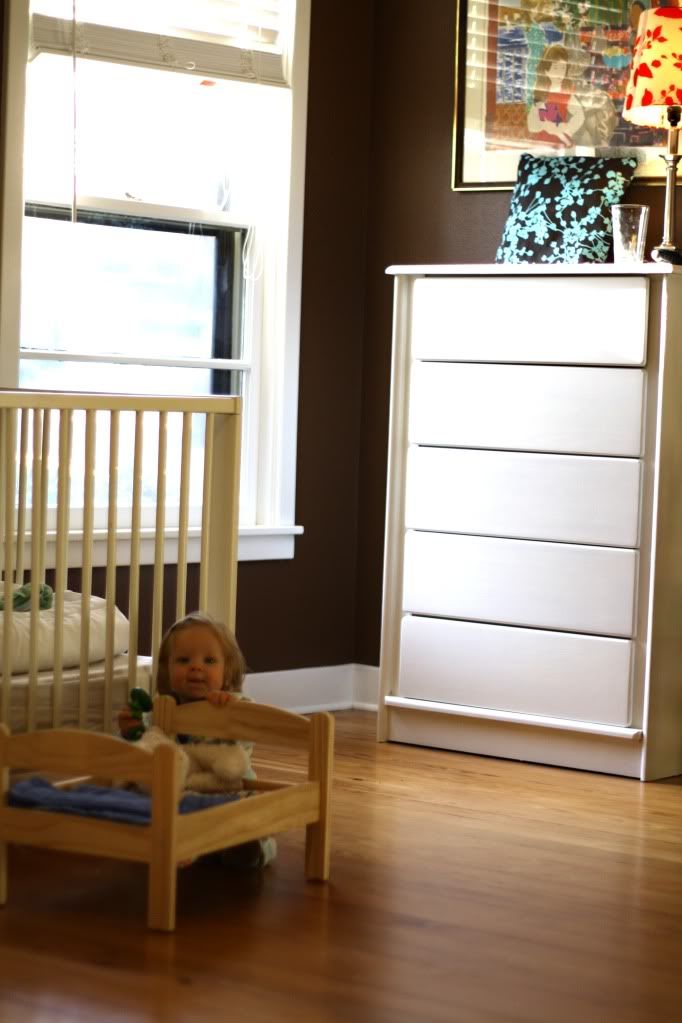 Excuse the Stella blur. She was bouncing up and down in this picture.



Here is our 25 foot hallway. So much fun to run up and down. I love it because it never EVER gets cluttery. Dusty? Yes. But I just love the clean feel of the wood grain.


This is Stella's Mama-You're-Too-Funny face. I think I was playing peek-a-boo with my camera.


We don't have hardware on the lower drawers because the babies were simply too tempted to get in there and dig around. Hardware is for the next season of life. We also keep the bottom shelf of our bookcases clear (or use it to store the kids' books, below.)
This is one of the built-in bookcases in our Dining room.
You can see the bottom two shelves are dedicated to their books. We keep a hefty stack of books in each room for them to look at (or chew). The owl sitting amongst the books was sewn by me in the weeks leading to Stella's birth. It was the I'm-Sorry-You're-Not-The-Only-Baby-Anymore Gift that I gave to Margot. Stella has taken a liking to it in the last month though, so I guess it's hers. Margot never did take to it. I used
this pattern
with a few adjustments (ie no ears and some owlish eyes and beak). Yellow duckcloth and grey vintage linen.