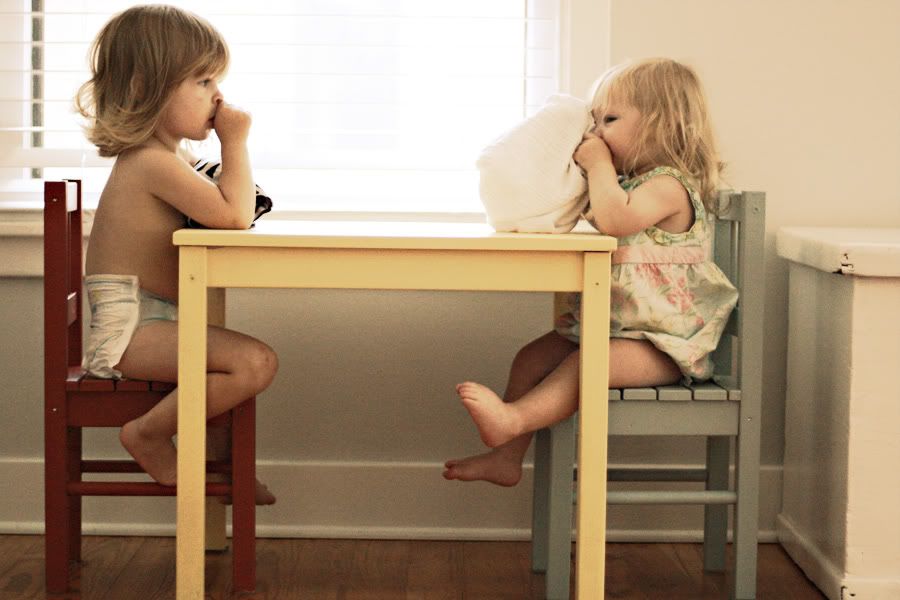 I painted this table and these chairs yesterday. They were unfinished wood. Very simple. I used the paints we had in our garage: Spanish Red (also in our entry hall), Atmospheric (also in our dining room and hallway), and Butter Yellow (a paint that we tried and didn't like in our bedroom: all by Benjamin Moore's Aura. The paints weren't mixed well before I started painting which made them all a bit more pastel and muted. I really like how they turned out.

I'll be leaving on a trip without my daughters for the first time ever. I have a mixed excitement. I will miss them and know they will miss me. I think it will be a good experience for all of us (perhaps excluding Jeff, who is nervous about keeping them for four days without me).

And, just so there are no misconceptions out there about girls and dirt:


Girls like to play in the dirt too!

They also don't mind falling from tricycles unclothed ... Stella is one tough little baby.


I think Margot took this picture. I have no recollection of it. I just started going through my pictures, and there it was. Thanks, Marge!