I'm one of those people who just cannot simply scratch something out on nice (or even not nice) stationery. It just ruins the whole aesthetic for me. You might as well just get a permanent marker and write a thank you note on a piece of newspaper from last week. No thank you. Being the kind of person that I am, I end up with a few more envelopes than I have cards (because the ones with mistakes inevitably get recycled). I've started addressing empty envelopes to Margot and putting them in with our mail. I also address empty envelopes to little friends in town and even overseas (Hi, Dan!). Something about getting mail, especially when you're under 13, is just plain exciting.

What I do:

When I use the last of the cards in any given set of stationery, I choose a wee friend to go along with each extra envelope.
We write their first name EXTRA LARGE on the front. Their last name should still be there along with the address, but they won't care as much about that as their first name. I skipped the addresses below just so all of you wouldn't take up stalking as a hobby. But I have addressed them to Margot (with our address) from Mama (our address again).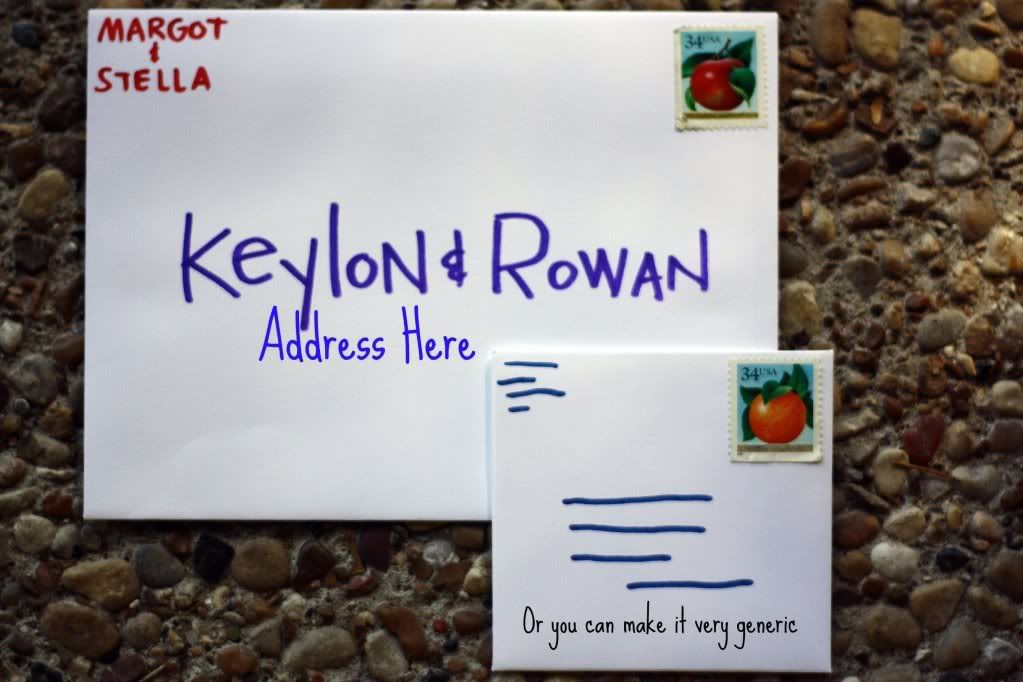 I made the generic one just for Margot to play with in our home. There have been occasions when she insisted on taking that piece of mail with her to the store.

Put a couple of old stamps (you know you still have some lying around somewhere) on the envelope.

Write in small letters on the back "Not to open, just for play". Of course that's a loose rule, but it just lets mom and dad know that there isn't a gift card or something lurking inside.
Post it!