Even though Margot is a veggie loving Queen, I still stress a bit about getting enough green stuff into her. Stella will probably be our problem child in terms of veggies consumed. Our fool proof way to get greens into Margot at lunch time is through quesadillas.

Behold, a baby willingly eating spinach: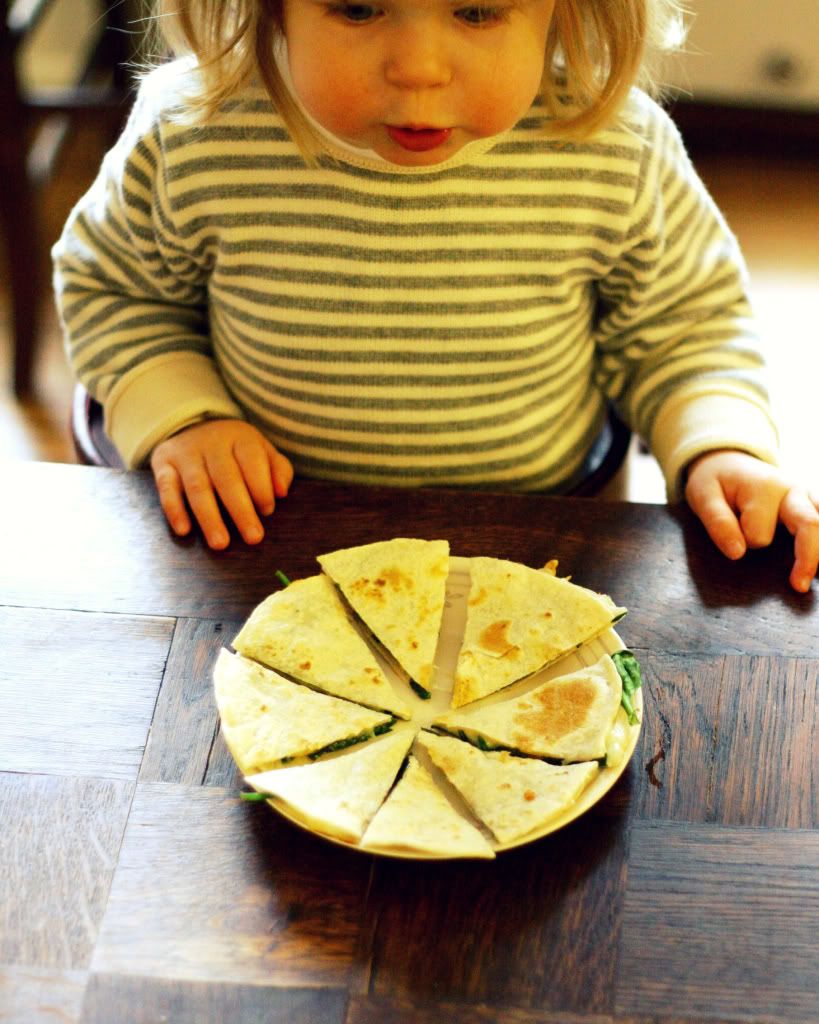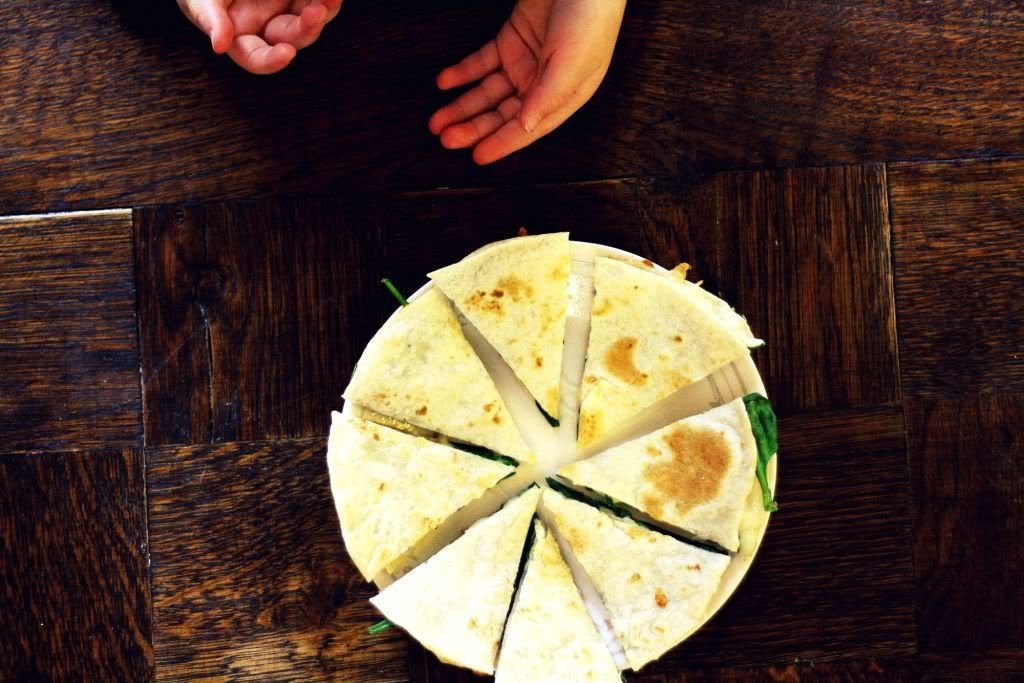 Here's what you need

1 baby/toddler (or as many as you have running around, preferably with teeth, but I have an extra toothless baby who has been known to eat these too.)
2 tortillas per baby (if you're in Texas, the whole wheat ones that HEB makes daily are amazing)
2 small handfuls of grated Monterrey jack favorite cheese (or cheddar)
1 small handful of spinach
stove
10'' skillet (I use one for every quesadilla, if you have a griddle that would work better for multiples)
DIRECTIONS
Lay one tortilla in the skillet
Sprinkle with one handful of cheese
Lay out the spinach on top of the cheese (careful not to double up the leaves too much at first or he might get suspicious)
Sprinkle the other handful of cheese on top
Place the other tortilla on top of the cheese
Heat skillet to medium high (if you have an electric stove perhaps you should heat the burner and then start the assembly. I'm not sure. You be the judge then leave a comment for the rest of the electric stove users.
Set timer for 2.5 minutes
Go read my blog
Go back and flip
Set timer again
Remove from heat
Let stand for 2 minutes.
Cut into 8 pieces and ask your toddler if he wants 8 quesadillas. Count "1, 2, 3, 4, 5, 6, 7, 8!" with great excitement.
Serve
Stop worrying about greens for the day.
A few variations to add when you have more than 6 minutes flat
-sautéed onions and peppers
-refried beans
-cooked black beans
-small cubed, cooked sweet potato
----If you have more variation ideas leave them in the comments.
I can highly recommend
Deceptively Delicious: Simple Secrets to Get Your Kids Eating Good Food
, which was a lovely Christmas gift from my darling
sister in law
. Thanks, Acadia!
Do you have some tricky veggie-sneaking recipes that you use often? Leave those in the comments, too!